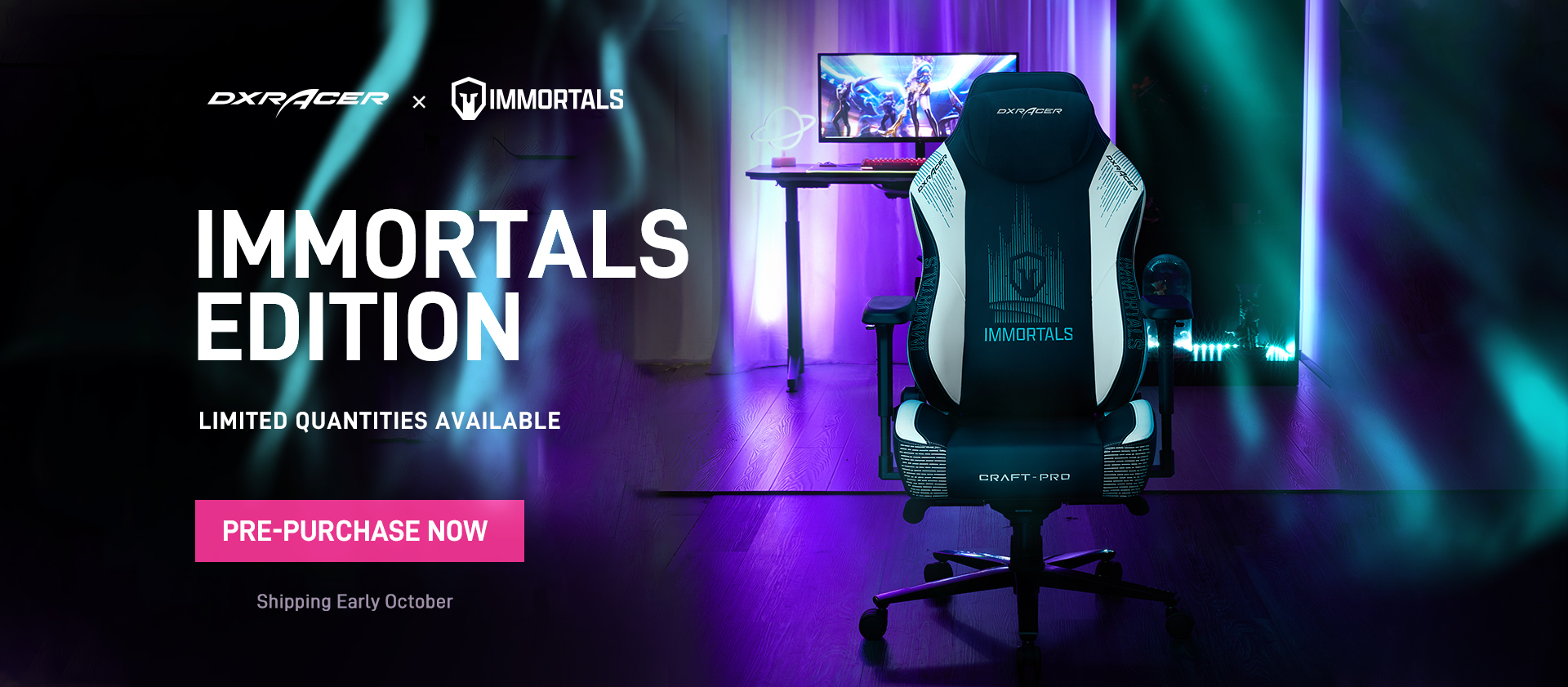 Founded in 2015, Immortals is a US-based esports and gaming organization that competes across multiple premier esports titles, including League of Legends (LCS), VALORANT, Overwatch, and Wild Rift.

DXRacer is headquartered in Whitmore Lake, where the premier esports organization, Immortals, is also located. Tim Wu, DXRacer CEO and Brett McGrew, VP of Immortals said that two companies intend to be active in 2022 and beyond, providing first-class experiences for Great Lakes community players and influencers as well as creating opportunities for fan interaction.

The collaboration of DXRacer and Immortals will enhance your gaming experience to a new level. Craft 2022 Series - Immortals Edition esports chair features a wider seat, exquisite embroidery and ergonomic design, which bring you a better gaming experience.

Unique Embroidery
Combining traditional embroidery aesthetics with advanced manufacturing techniques, DXRacer Craft 2022 Series - Immortals Edition makes the pattern more stereoscopic, plump, and vivid. The new generation of Craft is made of fine material, exquisite stitching and meticulous craftsmanship and the 3D embroidery design is visible from nearly all angles.

High Density Memory Foam
Made with high density and slow rebound memory foam, the headrest pillow is super breathable and elastic and can be moved for maximum comfort exactly where it is needed.

Extra Wide and Thick Cushion
The wider and thicker seat cushion not only provides you with ample room for comfort, but is also durable and hard-wearing. The top layer of latex helps you alleviate pain and pressure on your hip, allowing you to sit more comfortably.

Anti-pinch Hand Protective Cover
The patent anti-pinch hand protective covers (passed EN12520 test) protect your hands and children from pinch points and hidden dangers.

Ergonomic Support
Built-in lumbar support is ergonomically designed to provide amazing spinal support and help relieve the pressure on your lumbar spine. The backrest can be locked in any position between 90° and 135° to avoid falling backwards. 4D adjustable armrests provide gentle support for your forearms and elbows, which are durable, and easy to clean.

Upgraded Accessories
The multifunctional tilt mechanism, the class 4 hydraulic piston certified by BIMFA (by SGS) and reinforced aluminum base offer long-lasting stability and security.

Modular Design
Modular parts, such as extendable footrest, multifunctional bracket, etc can be added as needed, allowing you to relax from heavy work or intense gaming at any time.