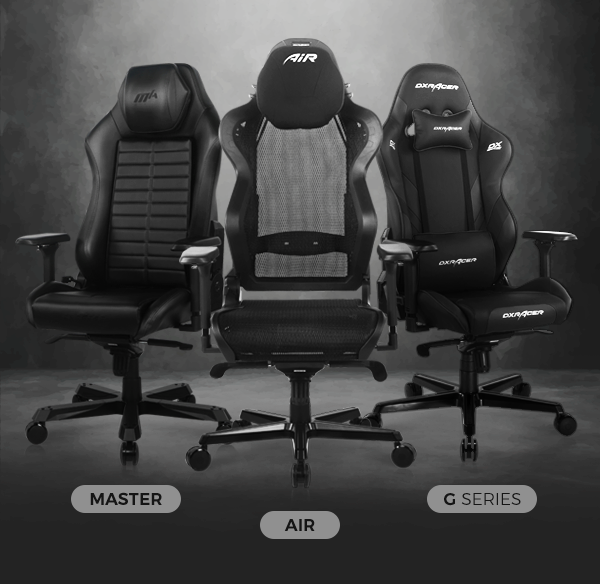 Focused on reinventing its seating concepts, DXRacer has released its new product line in 2021: P-Series, G-Series, Air, Master, K Series, and the upcoming Craft Series. The new collection introduces a pioneering concept that has a big impact on the gaming chair industry: the modular design (with customizable add-ons). The modular gaming chairs are designed to accommodate extra features, such as a retractable footrest, a laptop/mobile device stand, a cupholder as well as a mesh fabric seat replacement.
Aimed to offer affordable comfort, the P Series is welcomed by its rock-bottom price and compact dimensions. The chairs feature 1D armrests, a conventional tilt mechanism, basic adjustments, and added pillow set. These make it a solid pick for both students and young home-based professionals.
The G-Series is also a modular gaming chair like the DXRacer Master. However, it boasts the traditional racing style, conventional headrest, and lumbar pillow. Other features such as the 90-135 degrees reclining backrest, multi-functional mechanism, and strong aluminum base can also be found on the G-Series, making it ideal for enthusiast gamers or streamers.
The DXRacer Air is regarded as the most breathable gaming chair as it is upholstered in environmentally recycled mesh with super breathability. It looks more like ergonomic office chairs in terms of appearance.

Nevertheless,it can do more. The modular attachments such as the retractable footrest, laptop or mobile device holder, and even an RGB exoskeleton with brilliant lighting effects will redefine the way you play games. It will be a companion for both gaming or working.
As for the DXRacer Master, it is the first gaming chair that introduces the pioneering "modular" design. Beyond the modular addons are two standout chair features. First is adjustable lumbar support integrated into the backrest, instead of a pillow. The second is a sliding headrest featuring a rail-mounted design. In addition, the DXRacer Master adopts premium microfiber to deliver luxurious touch and award-winning comfort.
For more information, see the details.
Marketing Inquiries: marketing@dxracer.com