As a special treat for fans, DXRacer will be giving away a DXRacer X Dead By Daylight Gaming Chair you see below to the lucky winner of the 6th anniversary giveaway. Three winners will be selected at random from all participants (only open to those who sign up at DXRacer social media and who are 18 as of the date of entry). Winners will be notified by Twitter within 5 days following selection of winners. Campaign Period: Entries will be accepted online starting June 10th 12:00 PM ET and ending on June 17th 11:59 PM ET. All online entries must be received by June 17th 11:59 PM ET. The campaign must be entered by submitting an entry following the rules provided at https://twitter.com/DXRacer. All you need is to follow @DXRacer and @DeadByBHVR, retweet, and tell us your favorite killer. So don't miss your chance to win a co-branded chair and join this campaign now. Best of luck to those of you who enter!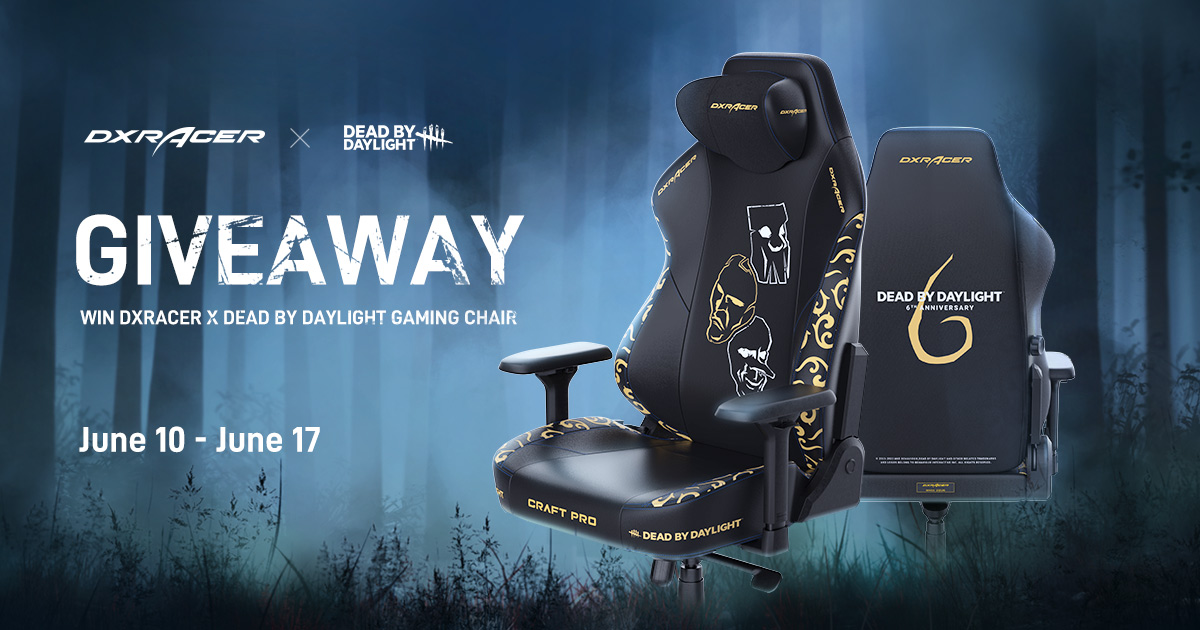 DXRacer X Dead By Daylight gaming chair is black scheme, adding elements of false face and ripples (a symbol of the fog in the dark). The entire body of Craft Series, front and back, is a canvas for art. We take great pride in the craftsmanship of our products. High-end Craft Series is a custom chair that may be paired perfectly with a variety of fashion elements and displayed as exquisite embroidery. So every craft chair is a masterpiece.
Dead By Daylight is a survival horror asymmetric multiplayer online game developed by Behaviour Interactive. It is a one-versus-four game. There are a total of four survivors and one killer. The killer must capture each survivor and sacrifice them to an evil power known as Entity, while the survivors have to keep from getting caught and fix five generators to open the exit gates to escape.
Dead By Daylight incorporates frightening horror figures that have terrified numerous audiences in the real world, providing gamers with a powerful visual impact and sense of accomplishment. Those who are familiar with the rules and escape route can defeat the killer through their wisdom and cooperation and transform the original bloody escape into a cat-and-mouse game. The game has skyrocketed in popularity since it was released on the Microsoft Windows platform in June 2016. Player response has been overwhelming.